With 33 years of experience in the paragliding, paramotor and paratrike sector, flying in the 5 continents, is a guarantee more than enough for you to trust us.
Both in teaching, baptisms of flight, filming and aerial photography our results are unbeatable, as our priority is the safety and perfection of our work.
César Maldonado welcomes you to our website where we aim to inform and advise you on everything that surrounds the world of sport aviation.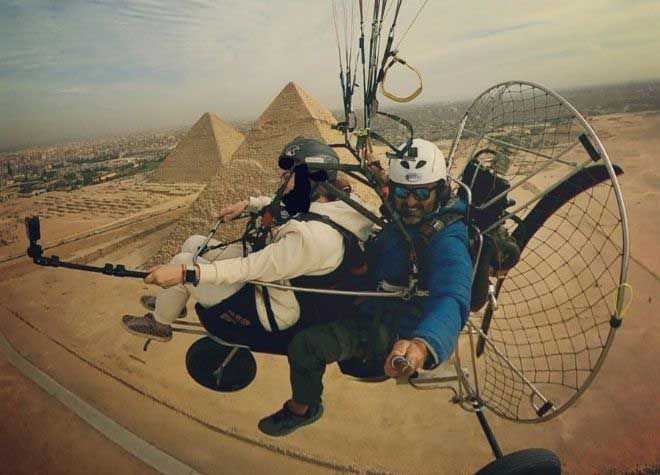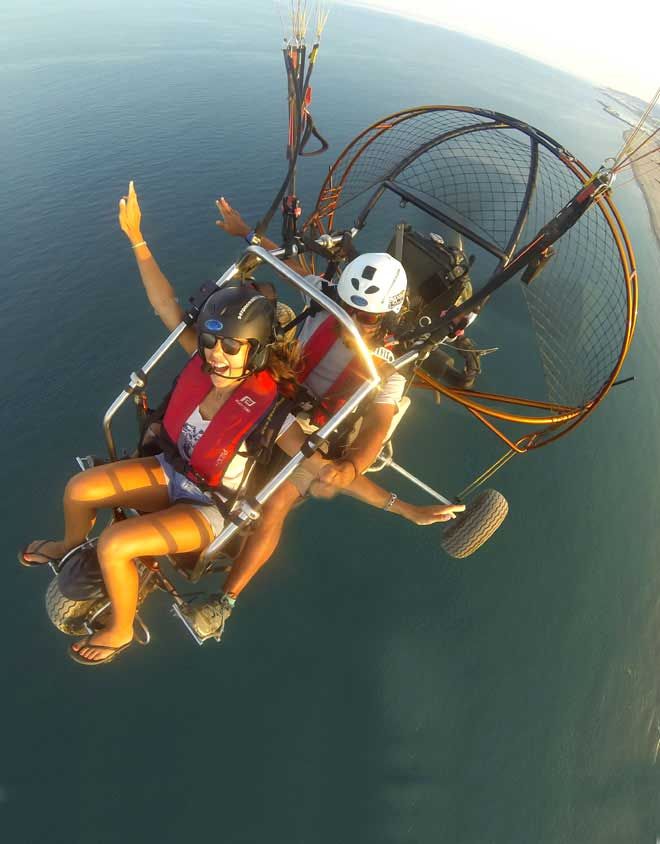 Tandem Flights with Motor Paragliding - Paramotor - Paratrike
You will fly with César Maldonado, runner-up in the individual World Championship, 3 times World Team Champion and Spanish Paramotor Champion.
Sports Technician by the Ministry of Education and Science, Instructor certified by the Royal Spanish Aeronautical Federation (RFAE) and Andalusian (FEADA) and instructor by the Royal Aeronautic Association of Thailand.
With 33 years of experience in paragliding and paramotoring, being for 15 consecutive years a member of the Spanish paramotor team with the status of elite athlete by the Consejo Superior de Deportes (CSD).
We apply all the experience acquired over these years to make your flight a unique, unforgettable and safe experience.
Our plans for Tandem Flights with Motorized Paragliding - Paramotor - Paratrike.
1 - Basic Paramotor Flight
Time: 15 minutes
It is the basic baptism of flight the duration is 15 minutes.
The usual route is from our flight field in Palomares to the Port of Garrucha.
2 - Intermediate Flight + Photos + Video
Time: 20 minutes
MSame route as Basic, Palomares to the Port of Garrucha.
But during the flight we do photo and video reporting.
3 - Indalo Mojacar Flight
Time: 30 - 35 minutes
Includes Photographic Report. Deliver micro SD card.
From Palomares to Mojacar. Aerial views of: Vera, Garrucha, Villaricos.
4 - Flight 5 Star
Time: 50 minutes
The duration of this flight will be 50 minutes and the price is 170 euros, it includes a video report and photos.
This flight will take us to San Juan de los Terreros where we will fly over its castle with its beaches of cliffs and turquoise water, such as El Calón, Cala Panizo and Pozo del Esparto. We can also enjoy the Sierra Almagrera with its countless abandoned mines in the Jaroso ravine where silver and lead were extracted in the 19th century.
5 - Special Flights Groups or Client needs
We make offers for groups of more than 10 people, we adapt to the needs of the client, being able to organize different activities that complement the flight.
We can make the flight that you need or adapt to your needs, contact us.
School - Paramotor Courses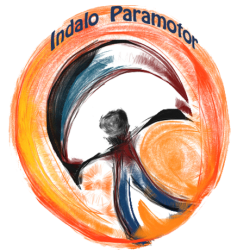 The Indalo Paramotor School is recognised by the Royal Spanish Aeronautical Federation (RFAE) and by the Andalusian Federation of Aerial Sports (FEADA).
The Indalo Paramotor School will register the student in a federative insurance of accident and civil responsibility for one month. In case the student wants to extend the insurance to a full year the student will pay the difference.
Our location by the sea provides us with a soft and laminar breeze ideal for teaching and practicing our sport.
Our Paramotor Courses - Paratrike.
Paramotor Course
The duration of the Course is about 25/30 hours.
Divided in about 8/10 days. The Student will make 6 flights.
Paratrike Course
The course is the same as the Paramotor course with the only difference is that we did it with Paratrike.
Advanced Course
We carry out Advanced Courses - Improvement of both Paramotor and Paratrike. Perfect your Technique.
Professional Services of Filming and Aerial Photography
Aerial filming
We have incorporated to our conventional aerial filming systems the latest remote control technology (Drones) and image stabilisation.
Our experience with more than 33 years in aerial filming is a guarantee to differentiate us from the current "boom" of new companies in the sector.
In the Drone world we have been flying RPAS since 2012 with the advanced pilot qualification, which allows us to fly drones up to 25 kg. We are also recognised by AESA for the practical training of remote pilots in national standard scenarios STS-ES 01 and 02.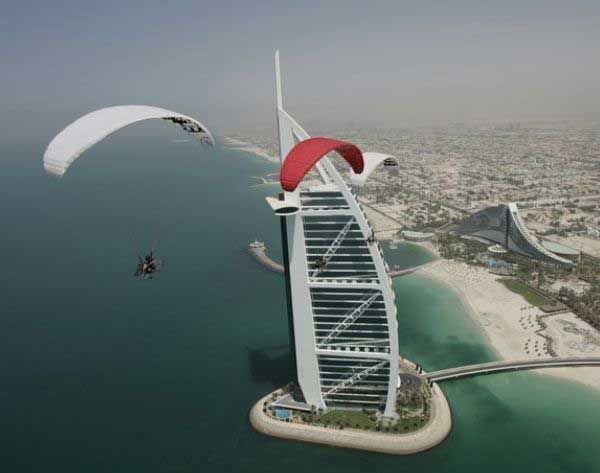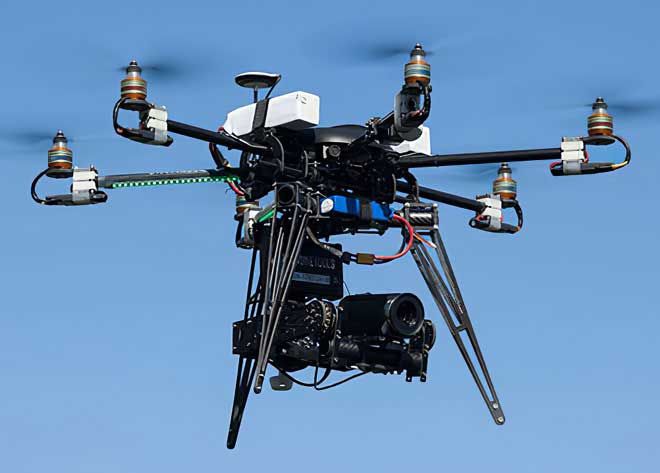 Aerial Photography
In aerial sports photography we work mainly in high resolution digital format.
We offer photography at low altitude to capture small details or at high altitude to show the situation of the place or the beauty of the landscape.
We also offer our two-seater Paratrike, for photographers or camera operators who want to make their own aerial reports, in these cases our job is to pilot and the client makes his own aerial report.
Advertising - Air Show
Due to the great impact and visual colors that our aircrafts offer, they are a great advertising attraction. Ideal for any outdoor advertising campaign.
It allows direct contact with a large number of public. Aerial choreographies, night aerial shows with pyromusicals dazzle the public with their beauty, color and spectacularity.
Advertising campaigns all over the world endorse our experience in this sector.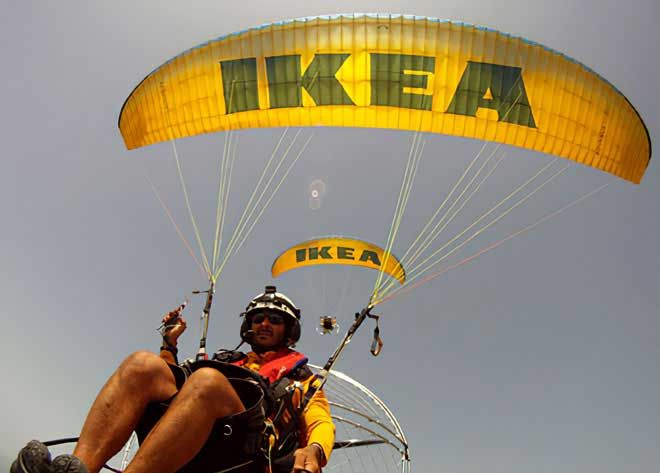 Media - Photography + Video Galleries
Photographs of Landscapes and Architecture x 2 and Documentary and Adventure x 2. Stunning photos of our Flights and Travel around the world.
Galleries of Photographs of Aerial Filming, Aerial Photography, Advertising and Show, Tandem Flights. A good assortment of photos of our work, flights and different.
Here you will find all of our Videos from our Vimeo and YouTube channel.